Nevadans remember political 'giant' Harry Reid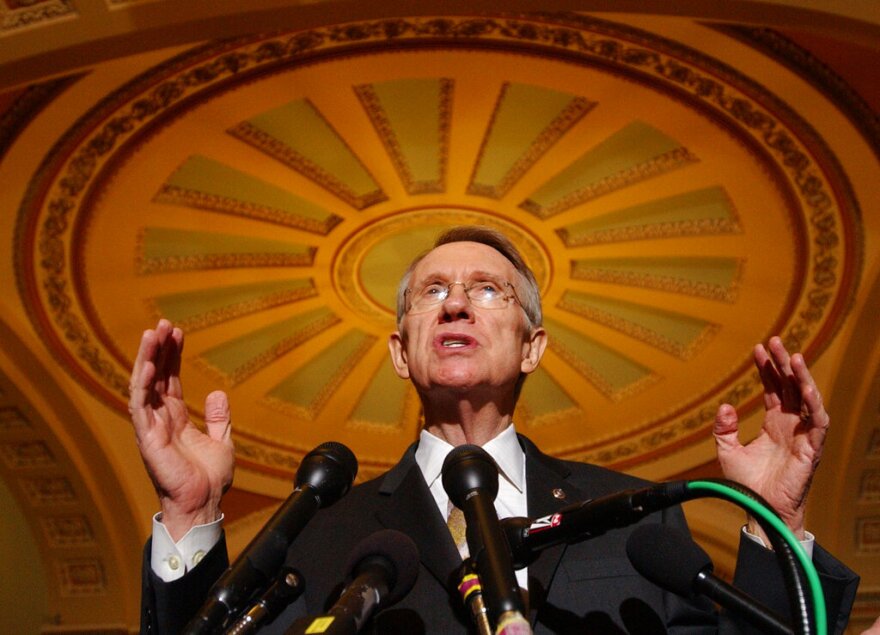 Nevadans marked the passing of former Sen. Harry Reid, the pugnacious Democrat from Searchlight who fought with mobsters and presidents.
Reid died Tuesday at 82 after years of battling pancreatic cancer. His death ended a political career that began the year Richard Nixon was first elected president. He served in the Nevada Legislature, as lieutenant governor, in the U.S. House, and five terms in the Senate, rising to majority leader.
"I wouldn't have been president had it not been for your encouragement and support," tweeted former President Barack Obama, who served with Reid in the Senate."You were a great leader in the Senate, and early on you were more generous to me than I had any right to expect."
In 2015 then-President Obama made a surprise call into State of Nevada to congratulate Reid on his just-announced pending retirement from the Senate, which he left in 2017.
"When the story is written, and when all is told, you're going to have somebody who has done more for Nevada and for this country as anybody who's ever been in the Senate," Obama said, adding that Reid's work to assist troubled homeowners helped soften the blow of the Great Recession in Las Vegas.
"It would be so much worse off, and in such a bigger funk, and people's homes would be worth so much less," Obama said.
Historian Michael Green said Reid knew poverty firsthand during a hardscrabble childhood in Searchlight, about 40 miles south of Henderson.
"His father was a hard rock miner," Green said, and "his father and his uncle took some old railroad ties, built their house covered with tarpaper."
After leaving the Senate, Reid returned to Nevada and engaged in issues as diverse as fighting antisemitism and studying UFOs.
He told State of Nevada that knew antisemitism existed but never directly encountered it until late in his career.
Sen. "Bernie Sanders comes to my home, (and) he leaves my home to give a speech," Reid said. "Nice crowd, and right in front of him is a big sign with a swastika. It's just something that I felt I needed to speak out on."
Reid also used his later years to promote the investigation of unidentified aerial phenomena, which used to be called UFOs, including prodding the Pentagon to take the issue seriously.
"Pilots wouldn't report these occurrences because of their promotions, (because) someone would think they were a little weird, crazy," Reid said. "So they didn't do that for many decades. Now they do, and I think that's good. Other countries are examining it, and we should be to."
Reid's death was announced late Tuesday in a statement from his wife of more than 60 years, Landra Reid: "I am heartbroken to announce the passing of my husband, former Senate Majority Leader Harry Reid. He died peacefully this afternoon, surrounded by our family, following a courageous, four-year battle with pancreatic cancer."
Reid, a one-time boxer, was famous for his political brawling with President George W. Bush and other Republicans and for taking on the Mob when he headed the Nevada Gaming Commission in the 1970s.
Former Nevada Gov. Richard Bryan, who knew Reid since they were young lawyers in the early 1960s, said his former colleague found success because of his big-picture thinking.
"Harry was much more focused much more strategic always looking at what he needed to do not just today and tomorrow but next year," Bryan said.
Political commentator Jon Ralston, writing for Nevada Public Radio's Desert Companion magazine, profiled Reid in 2016. That article can be found here.
Richard Bryan, former Nevada governor and senator; Michael Green, historian, UNLV