Big casino industry trade show returns in person to Las Vegas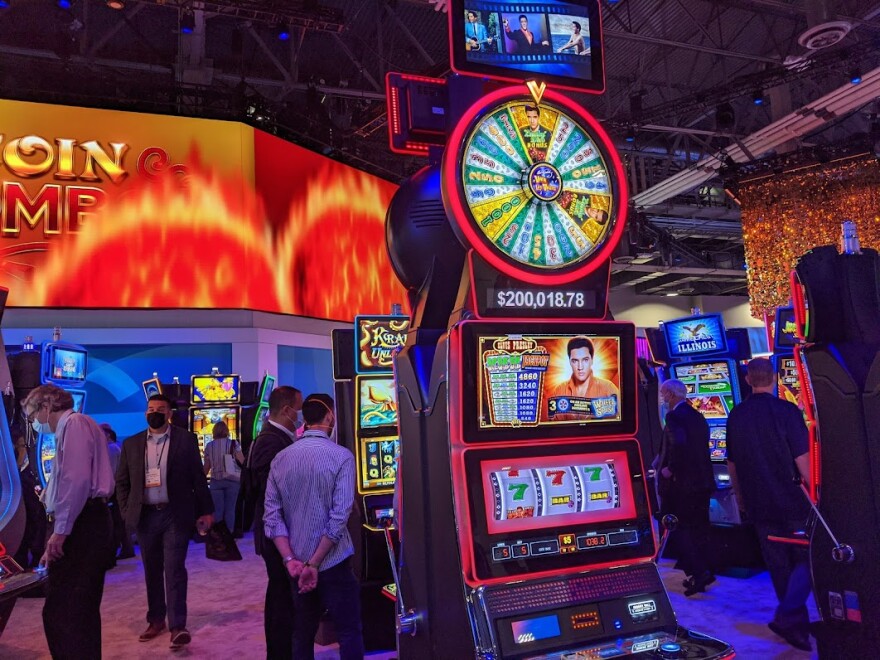 The casino industry gathers in Las Vegas this week for the Global Gaming Expo trade show.
The annual event is back in person after a virtual show last year because of the pandemic.
Among the topics under discussion are what casinos will look like after COVID-19, the spread of sports betting, and billion-dollar deals.
"You're looking at cashless and touchless systems, apps that are going to be used by the guests within the casino system," said Nevada Public Radio producer Mike Prevatt, who toured the conference on Tuesday.
At the expo, which Prevatt likened to "a CES for the gaming industry," the pandemic loomed large even before attendees arrived at the Venetian's convention floor.
"You had to be vaccinated. They give you a wristband, and security guards check that every step of the way," he said.
Also, exhibitors offered products to help casinos create a safe distance for customers.
"Imagine using an app to do any number of things in a casino," Prevatt said. "You're, you're taking money from your credit card, or your debit card, and you're establishing credit with the casino, or maybe you're making bets."
That search to capture eyeballs is also playing a part in the fast-consolidating sports betting business, according to a journalist who covers the gaming industry.
"You have to understand these companies that are buying other sports betting companies are buying that list of players to try and keep them," said Chris Sieroty, U.S. editor for the Gaming Compliance information service.
He said the ultimate goal is to be prepared as states consider legalizing online gambling.
"With online gaming, they're going to be in that position with those people to offer them those online slot machines and table games, which generate much more revenue than sports betting," Sieroty said.
He also said MGM Resort International's $1.6 billion acquisition of operating rights to the Cosmopolitan has gotten a good reception from industry observers.
"They operate Bellagio next door, they have Aria on the other side," Sieroty said, creating a suite of price points among the properties the company runs.
"That's what makes the Strip the Strip," he said, "there's something there for everyone."
Mike Prevatt, producer, State of Nevada; Chris Sieroty, U.S. editor, Gambling Compliance