Prepare to catch'em all at Pokémon GO's enormous event in Las Vegas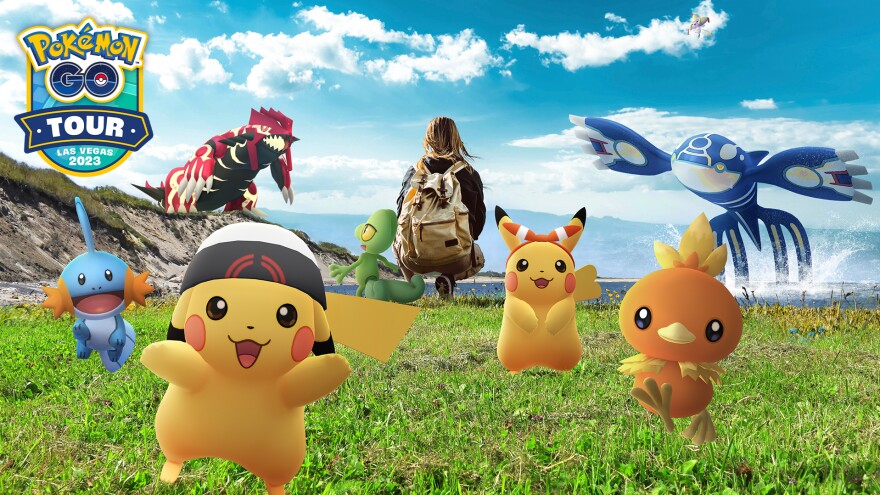 Pokémon GO, likely the world's most recognizable augmented reality game, hosts a gigantic in-person event February 18-19 in Las Vegas. This "tour" celebrates Hoenn, the setting for the third generation of Pokémon games, Ruby and Sapphire.
As with each of the game's previous tours, Pokémon GO Tour Hoenn focuses on a particular Pokémon, elemental type, or pop culture moment tied to the franchise. For this event, legendary powerhouses Kyogre and Groudon will have access to their Primal forms — a process that allows them to revert back to their original designs which feature flowing lava and brighter patterns on Groudon's arms and Kyogre's fins.
Returning to a beloved region
At the start of the event, players can choose from two teams, Ruby or Sapphire. The former increases the presence of Primal Groudon Raids, and the latter Primal Kyogre. For the first time since Pokémon GO launched, players will finally get to encounter the Primal versions of these legendary Pokémon.
Along with access to Primal Reversion, the event will also showcase one of the most popular forms of Pokémon across its many games: shiny variants. These color-changed versions of Pokémon are coveted most by collectors for how rarely they spawn in the wild.
During GO Tour Hoenn, players also have the chance to encounter other exclusive Pokémon. That includes the legendary Eon Pokémon Latios and Latias, the ever elusive Kecleon (which can also be shiny) and several species of Pokémon with shiny chances across different habitats: Nincada and Bagon in the Blistering Sands Habitat, along with Absol and Beldum in the Eerie Mists Habitat. You can even nab a costumed Pikachu wearing Brendan and May's hats from the Sapphire and Ruby games.
The event will also feature new music from Junichi Masuda, The Pokémon Company's Chief Creative Fellow and programmer whose ties to the franchise reach back to its very first games.
It's an addition that Humberto Kam, Niantic's Director of Global Live Events, hopes resonates most with fans.
"We're totally nerding out about that, because as people walk in [to the event], I want people to hear those horns from Hoenn...it was a great place to draw inspiration from, not only for the nostalgia but also to put a different spin on things." Kam said the experience is also an attempt to bridge the gap between fans old and new to the world of Pokémon GO.
Kam shared that destination appeal is a significant metric for in-person events as players may want to participate in activities outside of the game. "As much as we love Pokémon GO, if I was going to the event, my wife might want to have something else to do," he added laughing.
"We did Kanto and Johto years prior, so this was next on the list but given that it's Hoenn, we knew we had to do it right," Kam said about the impact of Ruby and Sapphire and the plans for this year's GO Tour.
Familiar faces
Bringing Hoenn's iconic legends to the event was an ode to a generation beloved by players across the Pokémon community. "When we started talking about GO Tour for this year, we just went Primals, right? We're going to add Primals?'" Kam said about the planning stages. From very early on they wanted to do something special and it felt like a "no-brainer" to add the feature.
Throughout the history of the franchise, Groudon and Kyogre have been staples in the anime, in viral memes, and on teams that have had massive success in the video game format tournaments of Pokémon's competitive scene.
The two, along with the legendary dragon Rayquaza, make up what fans have coined "the weather trio" — a trifecta of elemental barons who hold dominion over their respective ecosystems.
Groudon, as its earthy name suggests, reigns over the lithosphere, while the water Pokémon Kyogre rules the hydrosphere. In Pokémon lore, both creatures remain locked in an ancient rivalry, causing the earth's surface to split and its oceans to swell.
In the main series of games, Groudon and Kyogre serve as the cover art for Pokémon Ruby and Pokémon Sapphire versions, respectively. Together,the games are listed as the eighth best-selling titles in the franchise's history.
James Perkins Mastromarino and Andy Bickerton contributed to this report. contributed to this story
Copyright 2023 NPR. To see more, visit https://www.npr.org.