Tourism Study Chronicles Misery Pandemic Inflicted On Las Vegas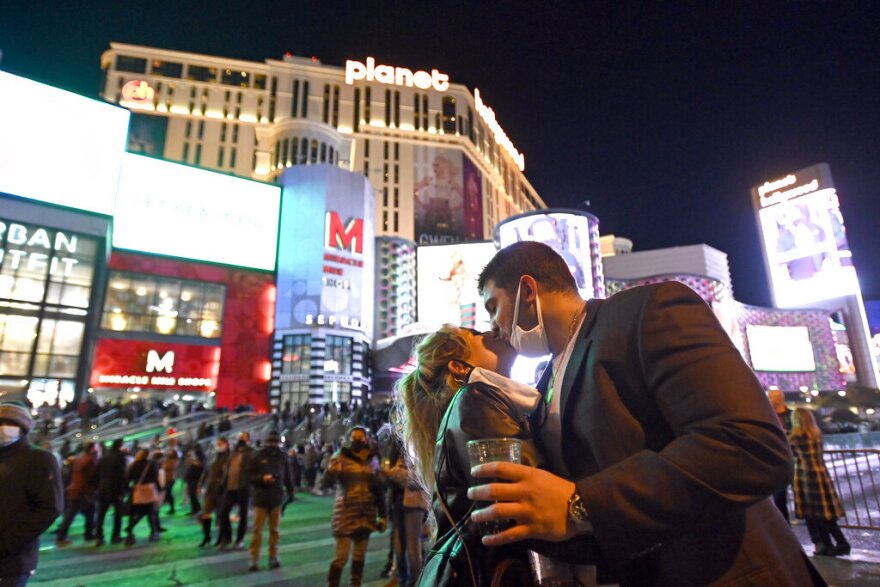 A new report detailing the pandemic's impact on Las Vegas tourism minces few words when it comes to the pain inflicted on Southern Nevada's economic driver.
With phrases like "travel industry collapsed," "indelible imprint," "a 44.5 percent drop in employment," "shortfalls have persisted," the study for the Las Vegas Convention and Visitors Authority paints a grim picture of Southern Nevada's tourism-based economy.
"There's no doubt this latest economic downturn was the steepest that we've experienced here in Southern Nevada," said Brian Gordon, a principal at the consulting firm Applied Analysis, which prepared the report.
The 25-page study says the pandemic led to led to a 55 percent drop in Las Vegas visitor volume to 19 million, the lowest annual total since 1989. Convention business also fell to its lowest level in 21 years.
Gordon said the steep decline has been followed by a sharp bounce back, saying, "We dropped harder, but we're recovering quicker."
Gaming revenues have rebounded and many employers report challenges in hiring, but Gordon told State of Nevada there's remains "a long way to go."
"About two-thirds of all the jobs that have yet to come back are focused specifically in the leisure and hospitality industry," he said. "That's a pretty significant number, and that that does have a ripple effect throughout the economy.
"We have the highest share of employees in the tourism industry" among large cities that attract a lot of travelers, such as Orlando, San Diego, and Los Angeles, Gordon said, "so it is subject to the ups and downs of more broad travel decisions."
Gordon said that reliance on tourism reflects the success Southern Nevada has had drawing leisure and convention travelers, something that needs to be kept in mind amid calls for more economic diversification.
"Going forward, it's important not to forget what got us here in terms of the growth that Southern Nevada has experienced, the economic prosperity that's developed," he said. "There is a lot of economic opportunity that comes with the leisure and hospitality industry."
Gordon said many of the changes wrought by the pandemic — such as check-in kiosks and cashless concessions — will remain when COVID-19 departs because they lower costs.
"My sense is that resort property operators will be focused on maintaining these top efficiency levels as well as mitigating human interaction on a go-forward basis, he said.
A return to normalcy for the industry might take until the end of 2022 to reach, he said, but the fast-changing nature of the pandemic makes predictions difficult.
Gordon said he is watching the numbers on: the return of convention business; international visitors; and passengers going through McCarran International Airport. Those travelers, he said, typically spend more than those who drive in from Los Angeles.
"I think we're seeing more cost-conscious consumers coming in from California and making their way along the highway," he said.
Brian Gordon, principal, Applied Analysis