As omicron spreads, Las Vegas welcomes 300,000 New Year's Eve revelers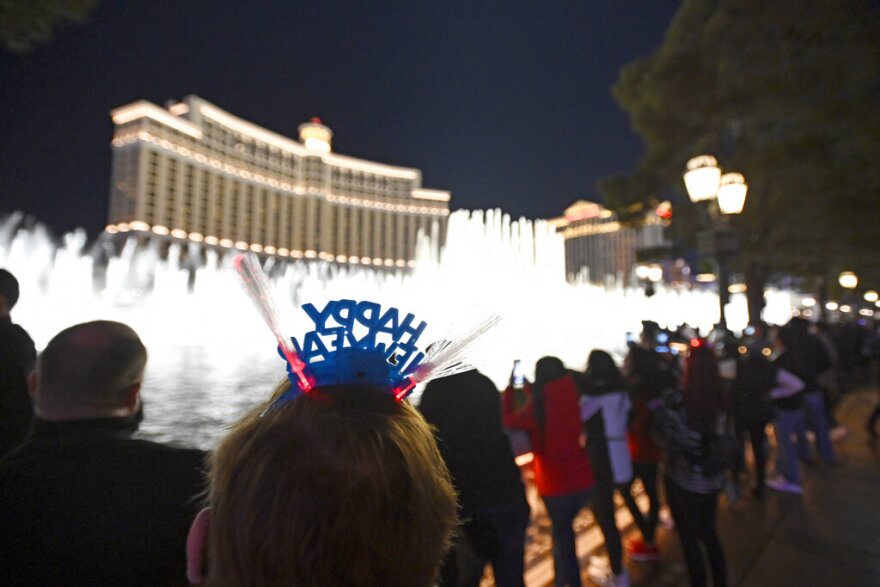 It takes more than a pandemic, cold weather, or shortages of champagne and caviar to derail New Year's Eve in Las Vegas.
Police estimate that more than 300,000 people will ring in 2022 on the Strip or in downtown Las Vegas, even as the omicron variant pushed Clark County's new coronavirus case count to numbers not seen in a year.
Despite that, Las Vegas is pushing ahead with its New Year's Eve revelry, including the return of the midnight Strip fireworks show that was canceled last year as a precaution. Eight Strip hotels will participate in the show that's expected to last about 10 minutes and feature music from Taylor Swift and Aerosmith.
In many places, including New York, Chicago, and San Francisco, New Year's Eve celebrations were muted or canceled for the second straight year due to the surge of coronavirus infections.
The National Weather Service predicts a chilly, breezy Friday night in Las Vegas, with temperatures in the 40s at midnight. High sustained winds are possible, which could force the cancellation of the Strip fireworks, though that has never happened.
For those planning to celebrate at home, a gourmet food expert warns that last-minute shoppers might encounter shortages of what she called "the top three essentials" for a proper New Year's Eve party.
"We've seen a lot of shortages of champagnes, we've seen a lot of shortages of the softer cheeses like brie, which are classic pairings for champagne. And actually, even some caviar is in short supply right now," said Diana Brier, director of cheese and an owner of Valley Cheese and Wine in Henderson.
Brier said some people are making substitutions — say, prosecco for champagne — when they encounter empty shelves or higher prices. She encourages people to seek expert advice to get the most out of their entertainment dollars.
"As a cheesemonger myself, anytime somebody comes in looking for a specific cheese, we just extrapolate the flavor profiles in that cheese and look for something that can mirror that experience for them," she said.
Brier, who is welcoming visiting family into her home for the holiday weekend, said there is more to focus on than hassles and higher prices.
"The thing that we really should be celebrating is that we all made it through another year and we're all together," she said.
And while many will be sleeping in on Saturday, Clark County work crews will be using 22 street sweepers to pick up an estimated 10 to 12 tons of trash along the Strip.