With the 2022 midterm elections two months out, how is Nevada shaping up?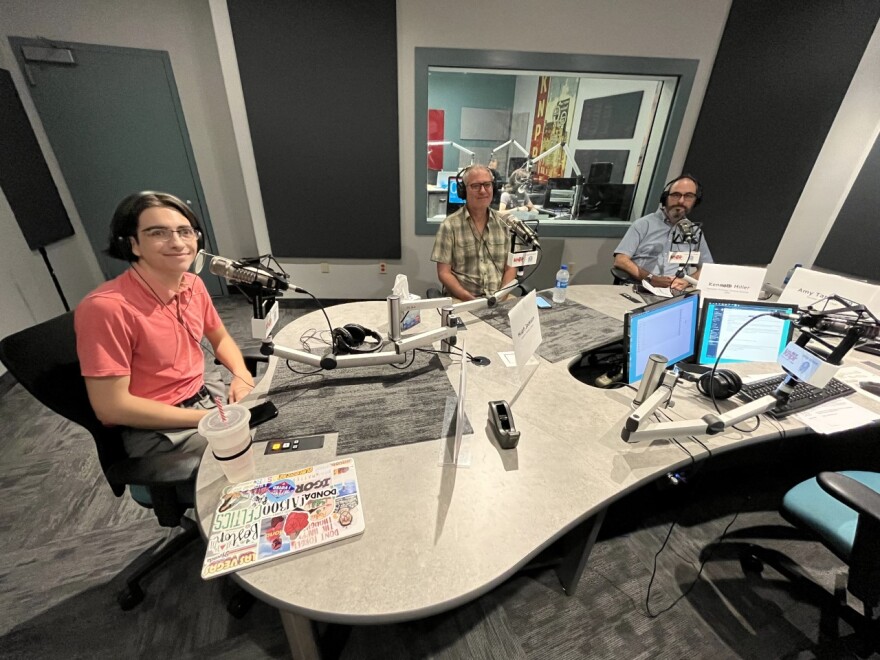 Early voting for the 2022 midterm elections is roughly two months away, and the vote in Nevada could be the pivot point for issues of national importance.
The Cook Political Report lists the U.S. Senate contest as a toss-up and millions of dollars are flowing into the state to bolster the campaigns of incumbent Catherine Cortez Masto and challenger Adam Laxalt.

At the same time, President Biden's poll numbers have started to improve as the Democrats passed huge packages on infrastructure, gun safety and pharmaceutical costs.
Political observers talked to State of Nevada host Joe Schoenmann about how the elections might go this fall and which issues will drive voters to the polls.
U.S. Sen. Catherine Cortez Masto, D-Nev., attends a campaign event at a Mexican restaurant Friday, Aug. 12, 2022, in Las Vegas. (AP Photo/John Locher)
If voters were to head to the polls today, who would win, Catherine Cortez Masto or Adam Laxalt?
Hugh Jackson, publisher of the Nevada Current: I don't know. You know, if you'd asked me maybe two months ago, I would have said Cortez Masto. I think that's probably still the case. There are a lot of as you noted, rightly, in midterm elections, usually the party that doesn't control the White House gets creamed.
There are exceptions to that. Of course, one big example in Nevada in recent years was in 2010, when Sharron Angle was nominated to be the U.S. Senator for the Republicans, and Harry Reid was very much disliked nationally, and even here in Nevada, yet pretty high disapproval, but angle was such a flawed candidate that Reid was able to pull that out. And Laxalt is also a flawed and somewhat amateurish candidate.
Gas prices. Will that have an effect?
Jackson: All of the polling indicates every time a pollster asks this question, they answer overwhelmingly no … I think it's starting to sink into people that a lot of the things that are going on with prices are certainly not confined to the United States. Inflation rates in Europe are much higher than they are in the United States. It's a kind of a global phenomenon, frankly, and there are a lot of different reasons for it. And people instinctively understand that coming out of the pandemic and the supply chain messes that have happened that has contributed a lot to it.
They also understand that Putin's war of aggression, and the impact on oil prices and the daisy chain effect that the price of energy has on everything else. People know that. So, a lot of people do, a lot of voters do. So yeah, it's still going. It's still a drag on Biden, and the Democrats, absolutely positively. But is it a fatal? I don't know.
Amy Tarkanian, the former chair of Nevada GOP, voiced support for incumbents Aaron Ford for attorney general and Zach Conine for treasurer. Why?
Tarkanian: Zach for state treasurer. I mean, really, that should be a nonpartisan position. I mean, he's doing an excellent job. It doesn't matter who you talk to. You can talk to business people, politicians, lobbyists. They all say he's doing a wonderful job. He came in he spoke twice to the Douglas County Commissioners meeting, which my husband is a part of, and my husband was very impressed. … I would think that's a no brainer considering the opponent has problems with the FBI, has not paid her taxes. I mean, why would you want somebody like that?
Sigal Chattach, the Republican candidate, was found to have texted in April 2021 about the Democrat in the race, Aaron Ford. It said he "should be hanging from a (expletive) crane," and compared him to the leader of Hamas. Did that effect her support?
Tarkanian: This was the final straw. … To me, it doesn't mean if you're going to say that privately or publicly, or if you're going to say he's, you know, Hamas are not Hamas, who talks like that? It's not acceptable. And then the fact that … she goes on Twitter and says that a lobbyist, if he showed his face in Vegas, that she would punch him in the face. And then that she threatens people to do a background check. She's basically abusing her position as a lawyer and trying to abuse a whole bunch of people because they don't agree with her.
Sean Golonka is a reporter for The Nevada Independent and dug into former President Donald Trump's claims that Las Vegas is a " cesspool of crime."
Golonka: I think it's a misleading statement about crime in Nevada, just overall looking at the state since 2015, 2016. We've seen violent crime on the whole decreasing, even sharper increases from 2017, 2018. And the same kind of goes for property crimes, where we've seen kind of steady declines. 2020 was a bit of an outlier year because of the pandemic and just everything that changed about normal life. But you know, kind of with this, this cesspool of crime claim, there's been a lot of claims about crime in the governor's race, especially because we have Joe Lombardo, the Sheriff of Clark County running for governor. We've seen ads attacking Lombardo for rising murder rates in the valley. And so, you know, there's kind of this perception that crime is on the rise because of the rising number of murders compared to 2019.
There have been a lot more murders in 2020, 2021, and even so far this year, and just because of the impact of seeing that somebody has been murdered on the news, versus there's a string of robberies, that has a lot more of a visceral impact for voters. So, there might be this perception, generally that Las Vegas is becoming more unsafe or that it's a cesspool of crime, like former President Donald Trump said, but really, holistically, looking at the data, violent crime is on the decline. And it's a lot lower than it was even just a few years ago.
There have also been a number of claims about the economy's impact on Nevada's families. What did you find?
Golonka: When you have Republican candidates saying, 'Oh, we're in a recession because of this kind of historical definition of two quarters in a row of declining GDP,' it really just doesn't capture the full picture because we've never been in a recession before where the jobs numbers were this strong, where you've got one of the lowest unemployment rates in the country's history -- certainly going back 50, 60 years.
Even in Nevada, where the unemployment rates remain higher than much of the rest of the nation, we've seen really strong declines in the unemployment rate. Generally, if someone wants a job, there are jobs out there available for them to get, but again, you know, there's just so much nuance that's not captured in these political attacks. You know, wages aren't keeping up with where inflation is going. So, even if you have a job, it could be a low-wage job where you're not making enough money to afford a home, an apartment, gasoline.
Ken Miller is an assistant professor of politicalscience at University of Nevada, Las Vegas. Caller Sam from Las Vegas wondered why no candidates are talking about water.
Miller: I'm a little bit surprised we haven't. And I'm a little bit surprised that we haven't heard as much from the Democratic side on abortion yet. And almost all the advertising has been on these economic issues and the issues of environment in general. And in our area, it's issues of water. That's a top priority issue for Democratic voters. So you would expect Democratic candidates airing more messaging on that. We have adjacent messaging that has been coming from the Cortez Masto campaign about sort of green energy Initiative, solar. But no, she's not talking about water right now. And [Gov. Steve] Sisolak isn't talking about it either. So they've preferred different ... each of those two candidates have preferred different topics so far.
There's a lot of money flowing into Nevada. Do we know how these contributions impact the messaging we hear in elections? Or is there are there special areas of messaging that these campaigns do versus the individual?
Miller: Yeah, there's a couple of things there. So the first thing that happens is more and more money is being controlled by outside interests. That is super PACs that are based in Washington, D.C. and 501(c), dark money groups that are based outside of Nevada, based outside of wherever state they're running. And so the messages that these organizations are airing, they might not be in sync with the candidates' messaging. And they may not be the issues that the candidate prefers to emphasize. Candidates and outside groups have gotten better on syncing that up, but it doesn't always sync perfectly.
Taylor Avery, reporter for the Las Vegas Review-Journal, recently covered the Basque Fry, a GOP event in Northern Nevada. The event was attended by Kristi Noem and Ted Cruz.
Avery: Both of them really, really encouraged voters to not only get out and vote Republican down the ballot, but they also really encouraged the attendees to speak to their fellow Republicans and fellow voters. Noem had this three or four step plan ... you need to start saying yes to volunteering and running for office, you need to make a list of all the people you know, and really speak to them about voting. And so both of them really emphasized speaking to those attendees, speaking to the people that they know, to really get out that vote.
How was Lombardo received?
Avery: He wasn't received as warmly as Laxalt or Cruz. And he even spoke during his speech about the elephant in the room, and referring to this highly contested race that he was in and the continued challenges from Joey Gilbert. So he did speak on it. And he wasn't as warmly welcomed as some of the other Republicans that spoke at the event.
Hugh Jackson, publisher, Nevada Current; Sean Golonka, reporter, The Nevada Independent; Kenneth Miller, assistant professor of political science, University of Nevada, Las Vegas; Amy Tarkanian, former chair, Nevada GOP; Taylor Avery, reporter, Las Vegas Review-Journal