Short Film Explores "Barriers" With And Without Subtitles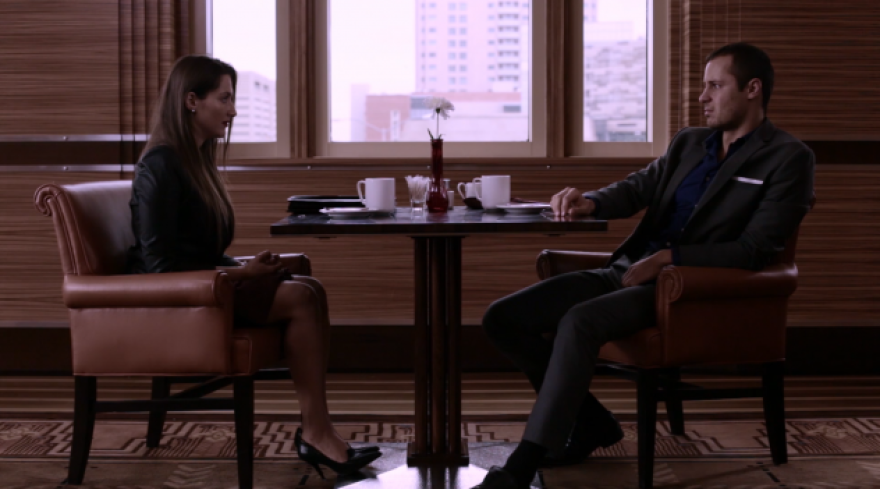 Would you watch a film that's in a language you don't know?
On the screen, two actors are at a restaurant table talking with great emotion about – what? Well, you're left to figure it out.
That's the start of John Bartley's film, "Barriers." It's 11 minutes long, and will be shown on Friday afternoon in Boulder City at the 13 th Annual Dam Short Film Festival.
The man behind the camera is John Bartley, a senior at UNLV.
"I just wanted to make a short where body language is half the information given to the audience," Bartley told KNPR's State of Nevada, because as he points out body language can be "totally misleading."
He drew on his own experiences to write the film.
"I wrote it because my mother is Mexican and my father is from Ohio," he said, "He's German-Irish… and I don't know Spanish very well. I kind of know the language but I'm missing pieces here and there. So whenever I visit family in Mexico, they're always talking to each other and talking to me but I'm not getting everything. And I have to kind of rely on how they're moving and how they're raising their voice or how they're speaking."
If you're fluent in Russian, the film won't be the same experience because you'll know what's going on right away.
But for those who don't know Russian, the experience of watching the film is eye-opening. We don't want to give too much away.
Suffice it to say that over the 11 minutes, we see the same scene twice. The first time without subtitles, then again WITH subtitles. The first time we only THINK we know what's going on.
John Bartley, director of the film, "Barriers."