Build it and they will bike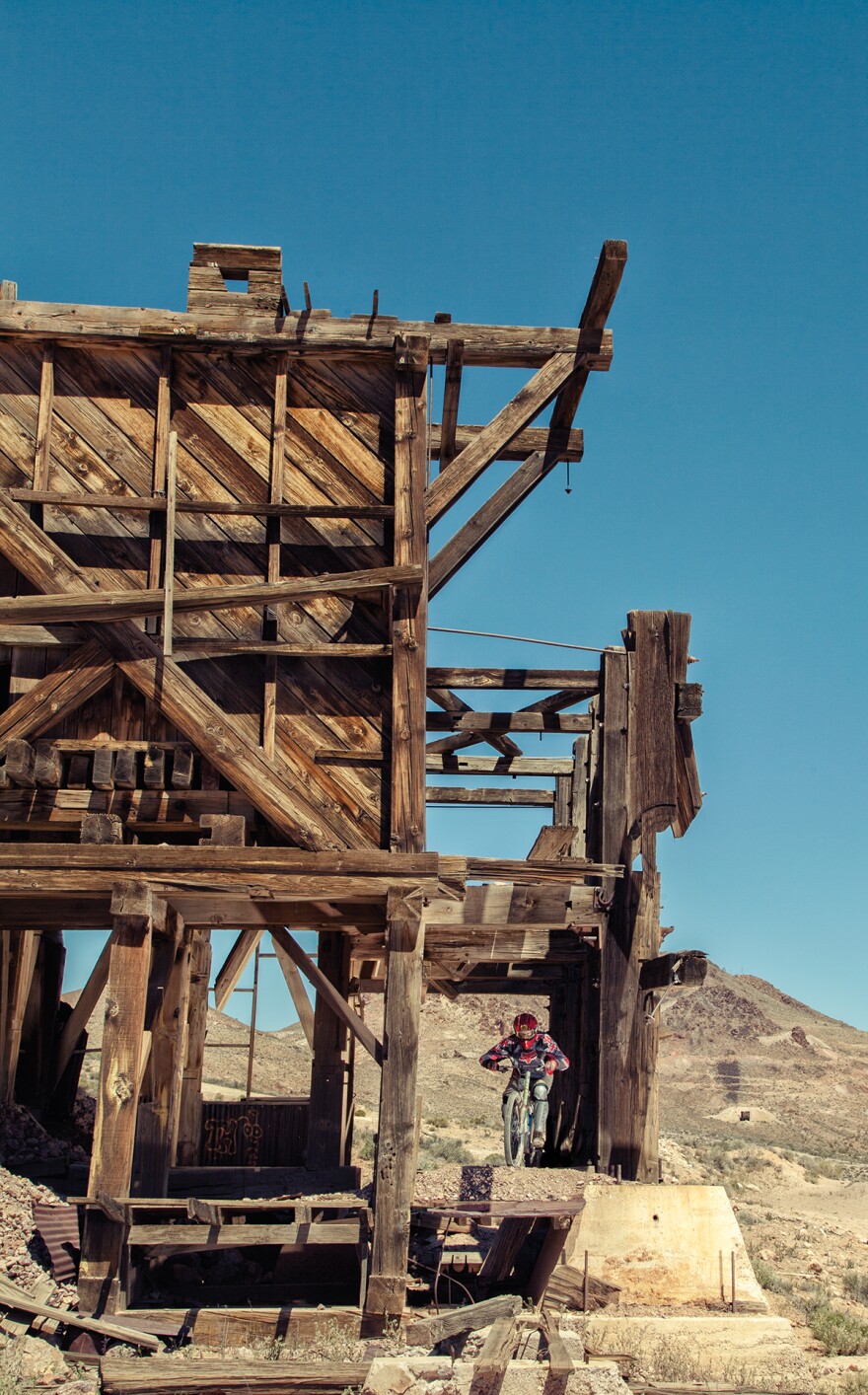 Can mountain biking save the flagging fortunes of Beatty? Those behind the push see a new kind of gold in them hills
For Valentine's Day, Brent Hart surprised his wife. Not with flowers or a romantic dinner. He took her to the town of Beatty, handed her a pick and told her to start swinging. They were going to build mountain bike trails.
"We're used to being active and outside, but physical labor was a different thing," Brent Hart says. "We were busting through rock with a pick and the shoveling was tough."
"I remember my friends asking us, 'What did Brent get you into?'" Rachel recalls. "The trip was just remarkable, but also a lot of hard work." The avid mountain bikers cut about a mile of a trail called Dynamite, and the way Rachel talks about it with such fondness, Dynamite sounds less like a mountain bike trail than a good friend — okay, maybe a good, sometimes difficult friend. "A rider has to have some lungs and muscles for Dynamite, so maybe it's intermediate in difficulty," she says.
It's not just anyone who can convince a couple to spend their Valentine's Day hacking trails from the dirt and rock. The Harts were there as guests of David Spicer, a rancher, quarry owner and lifelong Beatty resident. Spicer is also a mountain biker. But his passion for making trails isn't just about mountain biking. It also stems from his keen concern about Beatty's troubled economy. The former gold-mining town about 100 miles northwest of Las Vegas has been in decline since Barrick Gold closed its last gold mine in 1998. But once again, the town is turning for solutions to the mountains that surround the town — the perfect terrain for attracting hikers, biker and campers. Spicer is leading the charge to reinvent Beatty as a mountain biking and outdoor adventure destination.
David Spicer overlooks the land where he envisions the trails.
Christopher Smith
Rachel Hart and other riders test out some of the routes.
Christopher Smith
Rachel Hart and other riders test out some of the routes.
Christopher Smith
"Mountain bike revenue has been seen in many towns and states throughout the world to generate millions of dollars per year per community," says Spicer. "I believe that within a five-year time frame, we could significantly increase our taxable revenue base."
Spicer is no stranger to leveraging the craze for destination recreation and high-adrenaline sports events. He helped establish a nine-year series of Motorcycle Racing Association of Nevada events in Beatty, which ran through 2009. In 2012 and 2013, he brought Tough Mudder to the area, hosting the mud-drenched, military-style obstacle run on his ranch just outside of town. By Spicer's count, the two sold-out Tough Mudders brought a total of 14,000 people to town. The "Best in the Desert" off-road racing series also comes annually to Beatty with the help of Spicer. He's also formed an organization, Saving Toads thru Off-Road Racing, Ranching and Mining in the Oasis Valley (STORM-OV), to explore the full potential of Beatty as a mountain-biking community. His goal: 300 new trails designated for mountain biking and hiking.
Spicer's group recently brought in the International Mountain Biking Association to study whether his plan would work. Patrick Kell, the Southwest Regional Director of the IMBA, was part of the team on the study. He gives Beatty a big thumbs up.
"Beatty has really easy access to Las Vegas, which is a large metropolitan area with lots of residents and visitors and it's really easy for Vegas people to get to Beatty," Kell said. "They just hop on the 95 north. The ease of access is the main thing. We also have the vast wealth of BLM land available, which surrounds the entire town. So you have all this land to work on where you can design great mountain bike trails."
And the proximity to Death Valley National Park, he says, only adds to the plus column.
"Their conclusion was a resounding yes for this area being a success," Spicer says. "The only question they asked was if the town was ready for what we were bringing."
Adrenaline gold rush
Then again, the question might be whether Beatty can afford not to be ready. Bolstered by big mining companies that flocked to the area from the 1960s to the 1980s, Beatty's economy was at a high point well into the '90s. A new mine had opened in 1988, and by 1990, the town had grown to 2,000 people, with half the population working at the mine. Because of those big mining companies, Beatty was "spared the boom and bust economy that characterizes so many other rural west communities," says local historian Robert McCracken.
But not for long. The mine closed in 1998, and the town's been in slow but steady economic decline since. In 2014, Beatty's only bank closed because the town was not generating enough retail income.
"Beatty's economic position is getting worse, slowly deteriorating with county shortfalls, businesses leaving, and potential projects on hold due to BLM permitting delays," Spicer says. There's still mining in Beatty — one company is doing exploratory drilling in hopes of kick-starting the town's fortunes — but it's not something to depend on.
But what makes anyone think Beatty can reinvent itself as a mountain biking destination? Spicer believes if he builds the trails, the bikers will come — and trails are the number one attraction for avid bikers such as Brent Hart.
"If they can get the trails built and make it fun and interesting, then there will be a draw," says Hart. "A guy like me is looking for mileage. So the fact that he wants to build 300 miles, that is very attractive to me."
But it'll take more than nice views and whoop-de-doos to give Beatty the makeover it seems to need. Hart observes that Beatty isn't exactly a granola mecca.
"Mountain bikers like to drink in trendy coffee places and eat burritos," he says. "After a hard ride, they like to drink good beer in breweries and relax next to a fire. A hotel with a good-sized pool, too, would be nice." Oh, and one with bike storage and, ideally, bike-cleaning, too. Hart says mountain-bike culture demands places that are into "clean living" — quiet spaces, smoke-free environs. And, of course, a good bike shop.
At the moment, Beatty has gorgeous mountains and desert, loads of small-town charm, but it's skimpy in the amenities department. And even beyond mere amenities, destination travel is about the entire lifestyle experience.
"It's about an attitude," says Cimarron Chacon, owner of Gro Promotions, a trail development firm Spicer hired to design the trails and work with the BLM. Chacon worked with the BLM for nine years and designed the majority of the mountain biking trails in and around St. George, Utah, where she now lives. "First and foremost, mountain bikers ride for the experience, not the end destination — as in hiking to the top of a mountain. Mountain biking is physical, mental and social, so when designing a great system you have to keep all three in mind." In other words, this initiative isn't just growing a new industry; it requires a huge shift in Beatty's business and culture.
But, she says, the town does have a good start: a mix of unique restaurants, interesting landscapes, rich history and weather that's like a slightly milder version of Vegas'. It is also within 90 miles of an international airport and a major metropolitan hub. The biggest obstacle: money.
"There are huge costs for designing, permitting, trail construction, trail head construction, signage, and more," she says.
A long trail aheadIf Beatty succeeds in its plan, it'll join an honor roll of other towns that managed to get out of the economic doldrums with a little rebranding and a lot of rebuilding. Perhaps the closest case study is to the east in Fruita, Colorado. Fruita, with a population of 2,600, was bankrupt more than 20 years ago, when an organization that promotes mountain-bike destination development came to town, Over The Edge Sports. Over The Edge started building the trails and saw a benefit within two to three years, says Troy Rarick, the company's founder.
"I bought the corner building for $26,000, and mountain biking turned the empty downtown into a bustling downtown with two brewpubs, several restaurants and cool shops," Rarick says. Today the area of Grand Junction, which includes Fruita — now with a population north of 12,000 — draws about $42 million annually, according to one study. (And that corner building he bought is now worth about $400,000, he says.) And, again, mountain biking is just the first pebble in the pond; the ripples count just as much. For instance, the first Fruita Fat Tire Festival in April of 1996 drew 350 people. That festival now sees 1,500 people annually.
That's exactly the kind of ripple effect Spicer and others want to see in their town. "We want multiple events going on," Spicer says. "Not just mountain biking events. I can see us attracting runners too, for the trails will be for hiking and horseback riding. We want to be the center, the epicenter in Southern Nye County."
The people of Beatty have a lot of work ahead of them. Much of the process and plans for the area were just released to the public late last year and early this year, so the whole idea is just sinking in. But it's already generating excitement. Beatty businesses like the El Portal Motel are ready to get down to work.
"I'm already planning on building bike storage for our place to make the property more bike-friendly," says Aaron Johnson, owner of the El Portal. "I know we have looked into other hotels that have done similar things."
During a presentation in January, Carl Olson, a strong supporter of trail development in town, was pleased with the Spicer plan. Olson is the caretaker of Rhyolite, a ghost town that hosts a celebrated outdoor sculpture garden just three miles west of the Beatty.
"I liked the way it was presented to the town and the way they would interlock trails and bring them out to Rhyolite and past the train station," he said at the presentation. "It's a great idea. I think this is a good thing for the town."
In the meantime, work continues. Spicer's organization has already started the beginning mapping process and is working with the BLM to put together public land access and recreational trails. Barrick Gold Corporation donated money to do the first 25 miles of design, mapping and surveying. And when those trails are built, they'll aim to be world-class, says Chacon of Gro Promotions — constructed by hand, tailored for different rider skill levels, and rated for physical exertion and technical ability.
Spicer isn't waiting around for the red tape to cut itself. He's already started building the portion of the trails that are on his property, since it doesn't require a BLM permitting process; eventually, though, the trails will go onto BLM land and perhaps even Death Valley National Park.
And he probably wouldn't turn away any biking aficionados who want to help and know how to handle a pick and shovel. The Harts spent a grueling half-day building the Dynamite trail. The sense of satisfaction was nice, but getting a sneak preview of a possible new, revitalized Beatty was even better.
"We helped with a good mile," says Rachel Hart. "And then we got to test out the corners with our bikes."