The Mountain West News Bureau is a collaboration between Boise State Public Radio in Idaho, KUNC in Colorado, KUNM in New Mexico, KUNR in Nevada, Nevada Public Radio, the O'Connor Center for the Rocky Mountain West in Montana and Wyoming Public Media, with support from affiliate stations across the region.
'Not One More:" Commission releases recommendations to address MMIP crisis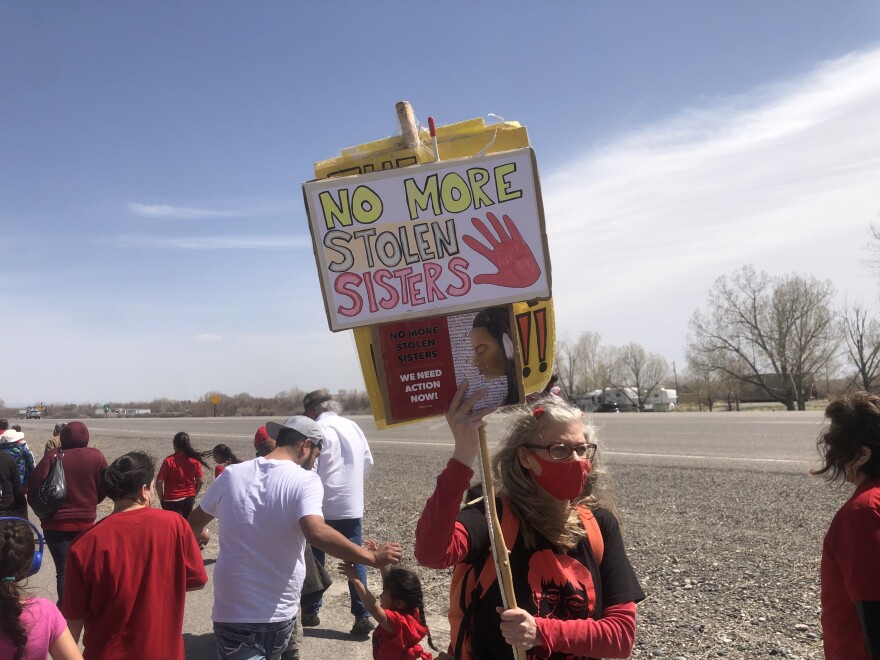 News brief:
The federally created Not Invisible Act Commission is calling for a "decade of action and healing" to address the epidemic of Missing and Murdered Indigenous Persons (MMIP).
The commission released a 212-page report with recommendations to help solve the crisis. American Indian and Alaska Native people are much more likely to go missing or be murdered than their white counterparts, according to federal crime data. Jurisdictional issues, funding cuts for law enforcement and a lack of media exposure about cases means these crimes can often go unsolved.
In response, Congress passed a law in 2020 to create the Not Invisible Act Commission, which includes tribal leaders, federal officials, MMIP survivors and their families.
Jordan Dresser is a member of the commission and is Northern Arapaho and Eastern Shoshone. He said he attended listening sessions all over the country to hear about the extent of the MMIP epidemic and discuss solutions. The effort was rewarding but challenging.
"I learned so much about not only this epidemic that native people go through, but also about tribal structures just in general. And how, over time, various institutions have failed us," Dresser said. "It was difficult to hear, but these are things that, within Indian Country, we hear all the time."
For Dresser, some of the most meaningful recommendations to help solve the issue come down to funding – both for tribal law enforcement and services for victims.
"Does money solve all problems? No. But it would help us be able to provide services," he said. "I think you have to have people who are trained and who can help the victim in a good way. But also advocate for them in various different channels."
Other recommendations include better collaboration between state, federal and tribal agencies, as well as better communication to victim's families and more resources for Tribal members who live outside of reservations.
Federal officials have to respond in writing within 90 days, and much of the guidance will require funding or lawmaking from Congress.
"Basically, it's in their hands now," Dresser said. "I truly believe that we were building something [where] we might not see the effects today or tomorrow, but in a few months in a year, it will."
For Indigenous communities themselves, Dresser said they need to focus on healing, education and "respect for each other."
This story was produced by the Mountain West News Bureau, a collaboration between Wyoming Public Media, Nevada Public Radio, Boise State Public Radio in Idaho, KUNR in Nevada, KUNC in Colorado and KANW in New Mexico, with support from affiliate stations across the region. Funding for the Mountain West News Bureau is provided in part by the Corporation for Public Broadcasting.